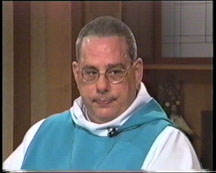 Fr. Steven Scheier was ordained in 1973. He became a parish priest and preached according to what the people wanted to hear. Catholic moral and dogmatic truths were left out of his homilies for the sake of keeping the parishioners and the money coming into the parish. At the same time, in his desire to fit in and be popular with others, he behaved in a way that would garner their acceptance, rather than the holy way in which a priest should deport himself. Deep down he knew he was not being the type of priest he should, but he hid that enough for people to believe he was a good priest.
On October 18, 1985, Fr. Scheier was traveling fro
m Wichita to his parish, Parish of the Sacred Heart, in Fredonia, Kansas, 86 miles away. He was involved in a terrible head-on collision with a pickup truck. Fr. Scheier was thrown from his vehicle. His entire scalp was taken off on the right
side and the part of his brain was sheared off..
In the ambulance on the way to the hospital he repeated the Hail Mary over and over. A nurse in the ambulance who had helped save his life, unfamiliar with the prayer, tried her best to help him pray. Once at the hospital, the doctor sewed his scalp back on and called for the Lifewatch helicopter to bring him to another hospital in Wichita. He had broken the second cervical vertebra in his neck; the "hangman's break." At that time he was given a 15% chance to live.
Throughout the entire tragedy, his parishioners and people of other denominations led a huge prayer effort at the hospital and
the rosary was recited for his recovery.
Father Scheier needed no surgery. He spent two months in the hospital before he returned to his parish in May 1986.
One day when celebrating Mass and proclaiming the Gospel about the fig tree (Luke 13:1-9), the page enlarged, became illuminated, and came off the lectionary toward Fr. Scheier. Startled, he finished Mass as best he could. Once back at the rectory, Father Scheier was able to remember a spiritual experience that had taken place just after the accident had occurred. Fr. Scheier found himself standing before the judgment of Jesus. The Lord showed him his entire life, and how he had failed in his priestly service. In the presence of Jesus, it is impossible to state anything but the truth and Father Scheier acknowledged that all the sins being revealed were true. He knew he deserved hell and stated so. He used to go to confession regularly before the accident but he did not have a purpose of amendment with true repentance, and had always thought there would be plenty of time convert his soul.

At that moment he heard a woman say, "Son, will you please spare his life and his eternal soul?"

The Lord replied, "Mother, he has been a priest for twelve years for himself and not for me. Let him reap the punishment he deserves."

"But Son," she responded, "If we give him special graces and strengths then let's see if he bears fruit. If not, Your will be done."

There was very short pause, after which Jesus said, "Mother, he's yours."

Ever since his memory of this miraculous second chance, Father Scheier has been devoted to Our Lady. Father Scheier learned the beautiful truth that no one of the Blessed Trinity can refuse the wishes of Our Lady; Our Holy Mother.

At the foot of the cross Jesus looked on his mother Mary and, with the words, "Mother, behold thy son," and to John, "Behold they mother," Jesus Himself made Mary the mother of each of us, and of the Catholic Church.

Father Scheier's miraculous Gospel passage, "Look here, for three years now I have been coming to look for fruit on this fig tree and finding none. Cut it down: why should it be taking up the ground?"
"Sir," the man replied, "Leave it one more year and give me time to dig round it and manure it: it may bear fruit next year; if not, then you can cut it down." (Luke 13:7-9)